Having Trouble Getting Started?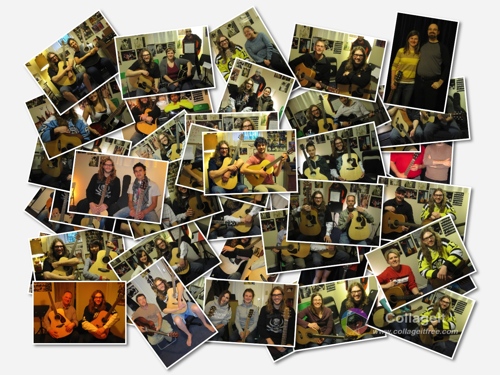 Are you a beginner guitar player and do not know where to start?
Do you have some experience already, but have problems with switching chords or strumming patterns?
Bar chords are hard and you do not know what to do?
Don't worry! We are here to help you as we have helped many other guitar students before you! You CAN become a good player in little time and the process is going to be fun! Book your free introductory session immediately by clicking on the button below so you can come and meet our teachers in person.

Or call direct 780 637 0513
We are the only music school in Edmonton to have the Elite Guitar Teachers Inner Circle seal that guarantees the highest quality for your lessons
I Was Once Frustrated Too!
I know how you feel: I spent years trying to learn the guitar by myself. I struggled for a long time with learning how to strum my favorite songs, and never felt really satisfied. I spent my days reading every book that I could possibly find, and my nights searching for Internet lessons... and as I found later, I was only making my life more complicated! The more I read the less I understood. My playing skills were always the same, and I started to wonder if I really had the talent for playing guitar. It was only when I found a great guitar teacher that things finally made sense and I started progressing at a steady pace.
I learned the lesson the HARD way: to work and progress effectively you need to have a coherent, large scale PLAN. You need to know WHERE you want to go, and especially HOW to arrive there. This is what a great teacher can offer you! If it was only a matter of knowing a couple of chords then everyone would be a guitar hero.
The reality is that there is no such thing as a self-taught musician. All musicians take lessons at some point in their life.
I am talking to beginners especially here. Don't be fooled! Learning to play the guitar by yourself is not easy! If you are frustrated, that's normal! We've been there, shared all the frustration you are experiencing now, and we found ways to overcome it. Give us a chance to help you.
"Right from the beginning, every time I came to class I learned something that's helped me make new songs, I enjoy the music more. After taking lessons, it just exploded, I was picking up on stuff really quickly, it really works for me, it was great!"
Steve B
We teach acoustic guitar for all rock based styles (classic rock, pop, blues), for both rhythm and lead guitar. We do NOT teach classical, jazz or flamenco guitar styles. As you know it is critically important to choose a teacher that specializes in the styles YOU want to play. Do not believe any teacher that claims he can teach you "all styles": this is a flat-out lie. There is not enough time in a lifetime to specialize in every possible music style!
Here is a non-comprehensive list of areas we could work together on in our acoustic guitar lessons in Edmonton:
Getting Started on the Instrument
Chords and Rhythm
Arpeggios and Flatpicking
Composition and Songwriting
Efficient Practice Strategies
Our Pledge to You
"I have a teach-yourself guitar book, and I couldn't really get it. Coming in and having someone show me was really helpful. Tommaso really shows you how to do it. I really like the group lessons format."
Krista P
We will:
boost your confidence in playing
speed up your learning
enhance your creativity
guide you step by step
have FUN in the whole process
Come and join the fun of playing guitar by clicking the button below and booking your free one-on-one introductory session. Take the first step now toward becoming the guitar player you dream to be!

P.S.If you are still in doubt, you can download this free guide on how to choose a great music teacher. You'll find it useful in your search for the right teacher for you!