Do You Struggle To Find The Right Groove?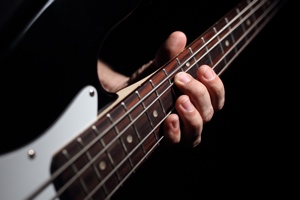 Do you want to learn how to groove on stage and play one of the most fun instruments ever?
Do you want to be able to enter in any band you want to be in? (bass players are at a premium!)
Are you a guitar player that wants to learn to play bass and you want to sound like a real bass player? (you know... not just like "a guitar player who picked up a bass")
Playing bass and being the driving force behind the band is not hard at all with the help of the right tutor.
If you are curious about taking bass lessons you can book immediately a FREE one-on-one introductory consultation so we can study a personalized learning program that will help you play in any style you want.

Or call direct 780 637 0513
Nobody Is Born With The Groove...
What is the "groove"? It's this ability that some musicians have (and many bass players have in spades) to play just a few notes and make them sound perfectly "right", with the right "energy". Whenever you find yourself tapping your foot listening to a song, this is the groove in action.
Many people think that either you have the groove naturally, or you will never have it. This is not true! I personally had no groove when I started, or any natural talent to speak of. The only thing I had going on for me was that I really wanted to be able to play. And yes, it was frustrating! I used to wonder if I would ever be able to play the way I wanted to, or if all this time spent practicing was wasted.
And it was only when I met a great teacher that I was able to finally understand and progress.
... But You Can Learn It!
The reality is that there are no "naturally talented" people. EVERYONE can learn to play bass properly and with a great groove if they are wiling to put in some time to practice.
At the same time, there are no self-taught musicians. Most musicians DO take lessons at some point in their life, and the few who don't still spent time in studying closely the style of other players. No musician is an island: trying to learn alone will only make things harder for you.
But even better than that: if you have a teacher that can create for you a long-term, coherent, relevant learning plan for you, then you will progress at an exponentially faster rate, and with just a fraction of the effort. This is what appears to you as natural talent and this is what a teacher can really do for you: make it look like you are "a natural".
"Knowing It" Is Only Half Of It
"And", you might be asking, "how are you going to help me? I already know some songs, they just don't sound right when I play them". I feel your pain. This is because information is only half of the battle.
Of course you need to "know the song", and of course you need to "know what you are doing". But these things alone are useless if you don't know how to APPLY this information... and then you ACTUALLY apply them!
In our lessons together I will give you immediate feedback, and will lead you into directed and supervised practice so that your hands, not your brain, will learn what to do and how.
What you will get by working with me are RESULTS!! That's all you care about, isn't it? Let me do all the legwork to decide HOW you will reach the results you want minimizing your frustration and maximizing your FUN.
A Professional And Solid Preparation
Here is a list of some of the things we will work together on during your bass lessons in Edmonton
Timing and Groove so that you can sound like a pro even when you have only 3 notes to play
The real practices that professionals use to "lock in" with the band and drive the song forward
How to make your song sound better without having to tell the singer or the guitar player using Note Choice and Chord Inversions.
Scales and Arpeggios so that you can play better runs and lines effortlessly
The "secret" exercises to play better Slap bass
How to play the same songs in many styles using different "stylistic patterns" and variations. Yes, creativity is part of what we'll work together too!
Performance Training
Music is a team sport, and nobody need to know this more than the bass player! You need to be able to play well WITH other people and FOR other people. If you are like me, this idea is both exciting and terrifying to you :-)
Regardless of what some people tell, you, being on stage is not something "natural" to most people. In fact all the musicians I know needed to learn how to approach the stage, how to use the stage to their advantage, how to relate with the audience... and yes, also how to manage their emotional state while performing.
The good news is: all this can be learned! But you definitely do not want to learn this at a public open stage or jam sessions, as these are not environments most conducive to learning. People there just expect you to "perform" and they definitely do not have time to help you!
So, to make your life easier, I also give monthly Music Performance Workshops where you will be able to learn how to perform in a safe and comfortable environment. By coming to these unique workshop regularly, you will be able to master the stage and become a great performer - even if right now you think you are too shy for it!
Playing Bass Is Fun! Let's Start!
As a bass teacher I will promise you that:
I will use the most advanced and effective teaching and training method so that you will progress at a faster rate with less effort.
I will guide you and help you at every step of the way so that you will not have any unanswered questions or doubts, and you will finally be to express yourself.
I will make you have FUN! Because why play an instrument if not for having fun? :-)
And remember... it may be the guitar player that is always in front of the stage, but it's the bass player that makes people dance on the floor!
If your vocation is to be the heart of the band, don't hesitate anymore and book a free introductory session by clicking on the button below.

PS: did I mention that the intro session is free? You can come and see what I can do with you at no cost or risk for you. What's not to like? :-)
PPS: Most importantly: don't think too much about it. I know people who way to me that their big regret in life was not learning how to play a musical instrument properly. Don't be like them!