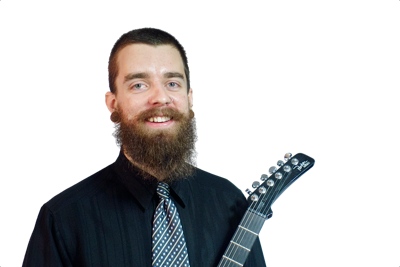 Ian is a Newfoundlander, born and bred, and has been teaching for two years. He picked up music at the wee age of seven and began playing in bands at the age of thirteen. At the Memorial University of Newfoundland he did a brief study of classical guitar - this made it clear to him that his true purpose was to rock. After much toil in the land of folk and alternative, Ian decided to pack up and embark on a journey. In September 2014, he arrived in Alberta with vim, vigor and a whole lotta love for metal music.
The first instrument Ian picked up was the piano, but not on his own volition, and as one would guess he quickly grew tired of it. He desired something with more grit and attitude. While spending time with relatives as a child, he was first introduced to bands such as Judas Priest, Stratovarius, Nightwish, Megadeth and Metallica. He couldn't believe his ears! Immediately, he and his friend made the agreement to start a band. Ian was to play bass and his friend the guitar. It was evident to his parents that he had much more passion for this style of music, so they made a deal with him (to his dismay); he was to study piano until he was twelve, and only then would he get a guitar.
Not even promised the bass that he wanted, Ian was distressed. He didn't think he could stand another couple years of "Twinkle Twinkle Little Star". But he made it through, and picked up the guitar which set him down a long road he never could have dreamed of. Ian's musical taste is rooted in metal and blues. He grew up listening and trying to emulate the players Randy Rhoads, Dimebag Darrell, Steve Vai, Zakk Wylde and Stevie Ray Vaughan. After listening to thrash metal for years, he yearned for more dense sounds. This sent him towards the more extreme side of metal with players like Mohammed Suicmez, Chuck Schuldiner, Michael Ammott, Yngwie Malmsteen, Alexi Laiho, Mikael Åkerfeldt and Joe Haley.
In his fifth year of guitar playing Ian discovered Tommy Emmanuel and got his first acoustic guitar which plunged him into the world of ballads and fingerstyle. Although he still remains devoted to heavier music, this greatly influenced the player he has become today. Ian loves sharing his passion for music and longs to help you reach your goals today!
Ian is available for electric and acoustic guitar classes in Edmonton. To book a free introductory session with Ian, click on the button below