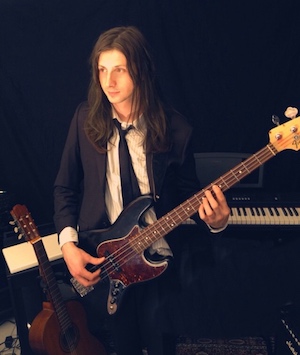 Kamil Wysocki is a bassist, singer and songwriter. He was the first to be born in Canada after his parents and family emigrated from Poland. Growing up, he was exposed to very different types of music than what was popular with children his own age. Staying true to Polish culture, his parents filled their home with all types of music you could dance and sing along to such as swing, cha-cha, polka, waltz, latin and many more.
When Kamil grew older, he started exploring different and newer genres. Punk and metal were amongst his favorite discoveries. Very shortly after, the world of music changed forever when the Internet came into being. Now anyone can unearth any band, song or album all with the mere click of a button. What Kamil saw was an artistic conversation that traveled and transcended through time and generations. This was a place where people reflected on their experiences, thoughts and dreams, immortalizing it all through musical recordings. He needed to join this conversation.
Kamil started playing bass 10 years ago with a friend that played guitar. They couldn't get enough and soon formed a band with two other friends. It didn't take long before they were playing live gigs with both original songs and covers. Kamil decided to learn to play guitar and piano and became skilled in music theory as well.
As Kamil grew as a musician, his skills and tastes also matured and he became influenced by jazz, classical and funk. Though his roots in punk, alternative and metal are the driving force behind his song writing, fusing modern and classic elements of music give Kamil a diverse outlook and approach to bass and its role in the musical world. It is Kamil's opinion that being open to many genres brings about unique and creative ideas. This is evident in Kamil's current band Limits of Reversal as well as his recent solo projects.
Kamil has a lot of experience with instruments, writing songs and professionally recording music but he believes the most important thing he learned is how to work with others musically. Everyone is different with individual goals and preferences and may have a different way of learning. As a teacher, it is his objective not only to instruct but also to help you understand what music means to you as an individual and how you would like to express that. Kamil will assist you in achieving any musical ambitions you may have in any and all genres that speak to you.
Kamil is available for bass classes in Edmonton. To book a free introductory session with Kamil, click on the button below