(Click here if you are looking for Adult Piano Lessons instead)
Looking For A Piano Tutor in Edmonton For Your Child?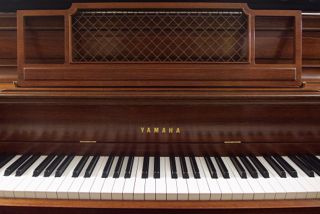 Lessons are done on a beautiful vintage Yamaha piano
Are you a parent to a child (6 or older) who has recently expressed interest in learning the piano?
Do you want your child to experience the great benefits of learning to play an instrument while nurturing their confidence?
Are you a parent searching for a patient and competent piano teacher in Edmonton to help your child realize his/her musical potential?
We are here to help you! Click now on the button below to book a FREE session with our teachers right now so that we can help you get started on the right foot and make music lessons a positive experience for both you and your child. Together we will discuss a personalized educational strategy that will take into account both your kids' and your own needs and schedule.

Piano Lessons Are One Of The Best Investments You Can Make For Your Child
Countless studies from experts in development and education have shown the great benefits of taking music lessons as a child. Such benefits range from increased self-esteem to higher memory, intelligence and creativity. Music trains both the left and right sides of the brain, and is overall one of the best activities for your child to be involved in.
It goes without saying that a necessary condition for your child to experience all these benefits is that he/she is being followed by a professional, competent tutor. There is a definite difference between a "musician" and a "music teacher" (though, of course, some people are both great musicians AND teachers), and it is virtually impossible for musicians to be effective as teachers and educators if they do not have the proper experience and training.
For this reason, an extensive part of our teachers' training is dedicated to piano pedagogy (i.e. the art and science of teaching piano) so that they can confidently and effectively be a reliable guide for your child.
Childrens Are Not "Little Adults"!
Playing piano is a fun and rewarding activity whether you are a child or an adult! But of course, kids and adults approach the piano in a completely different way, and are motivated by different things. For this reason we are NOT going to use for your child the same curriculum of study that we would use with an adult.
We do understand that the key point in having your child succeed in their music education is the consistency in his/her practice, and to this end we have a number of strategies ready to inspire them to play so that their practice will be exciting and rewarding.
Whenever we are teaching your child we know that we are collaborating with you, the parents, in creating an enjoyable and educational experience, whose rewards go well beyond the acquisition of just a musical skill.
Does My Kid Need To Know How To Read Music?
Of course not! While any pre-existing skill is welcome, most of our younger students are starting from zero. We will take care to give your child a gentle introduction to sight reading music as part of our piano lessons together.
We will use a progressive set of exercises and musical pieces so that your child will learn how to read music gradually and without straining, while having fun in the process!
Despite the reputation of being "one of the hardest thing to do", reading music is, like anything else in music, just a matter of training and learning the correct habits. Kids are very receptive to this kind of training, and after an initial period of adjustment, reading music will become second nature.
Professional, Convenient, Affordable
We understand how your life as a parent is already very full, and what sacrifices you are already making in order to grow and educate your child in the best possible way. For this reason we am committed to giving your kid the very best education experience they can have - and at the same time make sure that the logistics of the lessons are convenient for you. Here are some benefits in having your child take lessons with us:
We will work with you to find a lesson schedule that fits your needs.
Our central location allows easy access from any part of Edmonton.
We are located close to many grocery stores: this allows you to do grocery shopping while your child is at a lesson. Very time-saving and convenient!
A Fun And Rewarding Educational Experience
Here's our pledge to you as piano teachers:
we will help you in making our piano lessons an enjoyable experience for you and your child!
We will use the best and most modern methods of teaching so as to enable your child to reap all the benefits to his Physical and Mental development that music lessons bring.
We will make our piano lessons together fun, so that your child will enjoy the practice, play the instrument more, and ultimately be happier about it!
Don't wait anymore! We look forward to teaching your child and introducing him/her to the wonderful journey of learning a musical instrument! Click on the button below to immediately book a free one-on-one consultation with us.

P.S.If you are still in doubt, you can download this free guide on how to choose a great music teacher. You'll find it useful in your search for the right teacher for you!