(Click here if you are searching for Children Piano Lessons instead)
Looking For The Best Piano Lesson in Edmonton?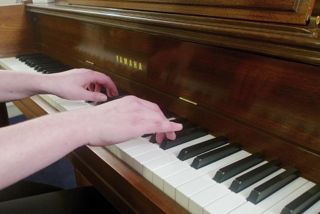 You would like to play the piano but don't know where to start from, and you would like expert guidance to avoid picking up bad habits that can hinder your progress?
You already have some experience but you have problems with sight reading and/or hand coordination and this is frustrating you to no end?
You are preparing for an RCM exam or equivalent
Anybody can become a proficient piano player with the right instruction and training. Book a FREE one-on-one session right now so we can decide together on a learning plan that will help you eliminate your problem areas and fit your schedule at the same time!

I'm Not Sure If I Have The Time To Learn
A question I get asked often is that people are not sure if they can fit learning a musical instrument in their life. My answer to that is that even with a little practice time you can go a long way, and that the joy of playing definitely repays you many times over. Many of my students tell me that playing the piano is their most powerful stress relief.
If you have only a little time available to practice, make sure to let me know. I will help you with the more modern and innovative strategies so that you can make the most of you limited practice time. Modern life is hectic and stressful, and the last thing you want is to spend that little time you have to play your instrument being frustrated. Playing should be a joy, and I will make sure that you know how to practice for maximum effectiveness and enjoyment at the same time.
I Don't Know How To Read Music
Don't worry! A gentle introduction to sight reading a score is part of our piano lessons together. I will use a progressive set of exercises and musical pieces so that you will learn how to read music gradually and without straining... and at the same time we will be able to work on your physical technique and musicality.
As for many other things in music, sight-reading is just a matter of training and learning the correct habits. Once these habits are in place, you will be able to play a score the first time you see it, effortlessly. No, it is not magic, it's just the results of focusing on the correct things to learn and avoiding the "bad" habits that can slow you down.
Do I Have Enough Talent?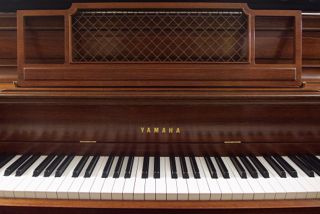 Lessons are done on a beautiful vintage Yamaha piano
Many students ask me if they have enough talent to learn to play the piano, or if they are young enough, or if they are good enough. This is a surprisingly common question, and I confess that when I started I had the same doubts. Well, what I found is that YES, with expert guidance and correct practice ANYBODY can learn to play, and learn to play well.
It's not a matter of natural talent, it's just a matter of using your practice time to create the correct habits that allow your hands to play the notes you want to play. This is much easier than it seems at first, and if you follow the exercises I will give you during lessons you will be able to see improvements after just a few weeks.
To Prepare For An Exam... Or Just For Fun!
As a teacher I am privileged to work with a variety of students. Of course, our lessons together will be designed to target your "problem areas" and eliminate them, and to boost your strong points. It is, at the same time, important that we work together toward a specific goal with a specific outcome in mind. For instance:
If you need to prepare an exam (such as an RCM exam, or an entrance exam in any higher learning musical institution) simply let me know when you contact me by clicking on the red button above. At our first free session together we will go through the specific exam you need to pass, and I will design for you a learning schedule in our piano lessons so that you will be prepared on all the requirements of the exam. Being organized is the first step to success, and will eliminate a lot of the frustration of self-study. Let me help you by training you on how to pass your exam.
If, instead, you just want to play for your own enjoyment that is good too, and I can help you enjoy the piano MORE than you are enjoying right now. How? By showing you all these little "tricks", shortcuts and techniques that would take forever for you to discover alone and yet are really simple to implement once somebody shows them to you.
Above All, You Will ENJOY Playing The Piano
Here's my pledge to you as a piano teacher:
I will lead you step-by-step explaining patiently what to practice and how to practice it so that you will never have to wonder what to do or feel "lost".
I will use the best and most modern methods of teaching so that you will be able to improve faster and dramatically reduce your effort and frustration.
I will make our piano lessons together fun, so that you will enjoy your practice, play your instrument more, and be happier about it!
Don't wait anymore! I look forward to helping you improve your piano skills and have you play the music you want to be able to play. Contact me immediately by clicking on the button below!

P.S.If you are still in doubt, you can download this free guide on how to choose a great music teacher. You'll find it useful in your search for the right teacher for you!