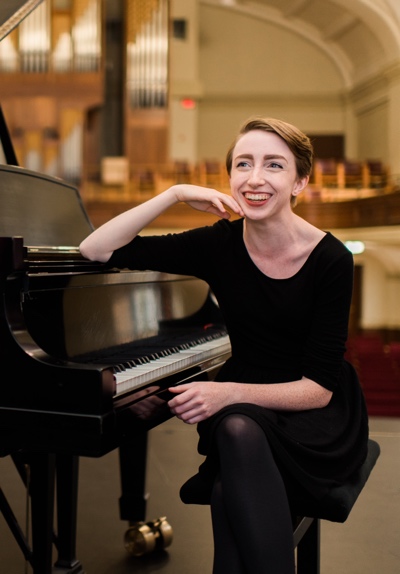 Rebecca Parsons is a classical pianist based in Edmonton, AB.
Starting the piano at age 4, Rebecca comes from a lineage of music teachers, her mother being a professor of Music Theory. She studied with pianist Aline Banno from age 4-17 completing Royal Conservatory of Music certification up to Grade 9, and moved to Edmonton from North Vancouver in 2011 to pursue a Bachelor's degree in Music at the University of Alberta. Since then she has studied with Janet Scott-Hoyt and Dr. Jacques C. Després.
Rebecca is a passionate advocate of accessibility in classical music, working to present the music she loves in a way that demonstrates relevance and importance to both students and listeners. She is a diverse musical listener, her tastes ranging from folk to jazz to metal to, of course, classical. She believes diversity is important for the development of well-rounded musical taste.
Rebecca is highly involved in the Edmonton choral music community as well, performing as an accompanist and singer with the Kokopelli Choir Association since 2011. She has directed choirs throughout the city, including The Assorted Singers (Grant MacEwan), The Braille Tones, and the YONA-Sistema Choir, a project of the Edmonton Symphony Orchestra.
In April 2016, Rebecca was the recipient of the Marek Jablonski Award for best piano jury performance at the University of Alberta. She is an especially passionate and skilled performer of the works of Maurice Ravel, Johann Sebastian Bach, Sergei Prokofiev, Frédéric Chopin, Jean-Philippe Rameau, and Béla Bartók.
Rebecca is available for piano classes in Edmonton. To book a free introductory session with Rebecca, click on the button below