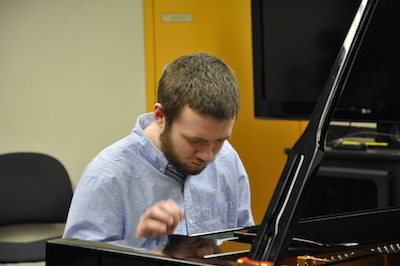 Brendan McGrath is an emerging pianist based in Edmonton, Alberta.
Raised by parents with a love of listening to music of all types and genres, Brendan got his start at age seventeen playing for the Littlebirds big band under the direction of Edmonton trumpeter Joel Gray and saxophonist Don Berner. In the fall of 2013, Brendan began attending Grant MacEwan University to study for a degree in Jazz Piano performance. Since then, Brendan has studied under various established and skillful Edmonton pianists such as Paul Richey, Rob Thompson, Andrew Glover, Chris Andrew, Bill Richards, and Tom Van Seters.
Brendan's influences primarily belong in the jazz idiom, drawing inspiration from pianists such as Bill Evans, Herbie Hancock, and Renee Rosnes, but Brendan also borrows from the realms of classical, pop, folk, and punk music to emphasize the importance of intuition and daring in music.
Brendan has always been drawn to the versatility of the piano in jazz, able to accommodate any size of group from solo piano to big band, and able to function on any sort of emotive level, from the lyrical jazz ballad played by artists such as Bill Evans, to the visceral, chaotic free jazz explored by musicians like Cecil Taylor. Brendan strives for versatility and exploration every time he plays.
Brendan is available for piano classes in Edmonton. To book a free introductory session with Brendan, click on the button below