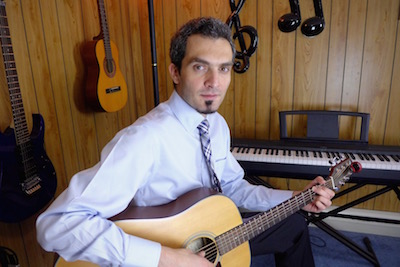 Siavash "Sia" Hoor is a Vocalist, Guitarist, songwriter and Music producer originally from Iran.
As a teacher Siavash has helped many students in the last 10 years to find their way in music, in areas as diverse as songwriting, guitar playing and singing.
With a degree in petroleum engineering from Petroleum University of Technology (PUT, Iran), Siavash started his career in the music industry as a songwriter when he was 18 years old. As a composer he has written successful songs for various artists. He has experience in both Western and Eastern music and in how to bridge the two styles.
Siavash has produced many single tracks and albums for independent artists, bands and singers in Iran. He has collaborated with many Persian artists in studio projects and released several single tracks. Siavash's videos have been broadcasted from well known Persian music TV channels like PMC.TV (Persian Music Channel), AAA Music and various other media.
Good artists need good teachers. Siavash is available for voice and guitar classes in Edmonton. To book a free introductory session with Siavash, click on the button below: